Steel Grating Welding Machine
Steel Grating Welding Machine is designed and developed on the basis of improvement of continuous operation reliability of steel grating welder, labor saving, improvement of production efficiency, as well as green environmental protection. It is mainly composed of welding mainframe, automatic blanking system, servo lifting system, semi-automatic feeding system and control system, and it is a welder specially aiming at steel grating products.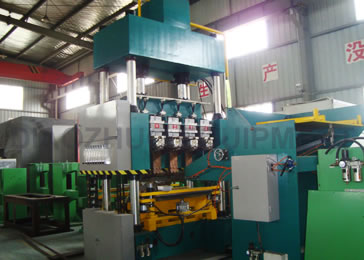 Machine Descriptions:
1. The machine adopts PLC program and touch screen to control, very easy to operate.
2. This machine adopts hydraulic device to control welding electrode; it can weld two spots one time when flat bar thickness is within 2.5-4mm, weld 1 spot when flat bar thickness is within 4-6mm.
3. The machine adopts servo motor to pull grating mesh, more stable, high precision.
4. This machine adopts air sac device to fix flat bar space. The flat bar space is fixed, flat bar thickness and width can be adjusted within range on one mould.
If you want to know more about the product, please visit our official website. We always look forward to working with you!