Shuttleless Weaving Machine price china
Do you want to know shuttleless weaving machine price china? Hebei Diaozhuo Wire Mesh Equipment Co.,Ltd. can provide you a reasonable price.Our company has been producing this product for many years and is very experienced in this field. The quality of the products we produce is trustworthy and meets your needs.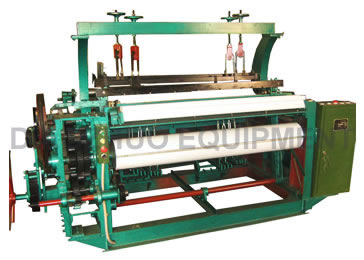 The basic features of a shuttleless weaving machine are the separation of the weft package from the shuttle or the replacement of a large, heavy shuttle with a small amount of weft to a small, lightweight weft feeder, providing favorable conditions for high-speed weft insertion. Weft yarn in the supply, but also directly using the package package, through the weft insertion device into the weft, the loom to get rid of the frequent filling action. Therefore, the use of shuttleless loom for increasing the variety of fabrics, adjust the fabric structure, reduce fabric defects, improve fabric quality, reduce noise, improve working conditions is of great significance. Shuttleless loom speed is high, usually 4-8 times higher than shuttle loom efficiency, so the large area to promote the use of shuttleless loom, can greatly improve labor productivity.
If you need, please contact us. Do not hesitate!We also has Hexagonal Mesh Machine for sale.Looking forward to your visit.