There are three kinds of rhombic net machines: automatic rhombus, semi-automatic rhombus, and multi-function rhombus. Automated Diamond Mesh Machine
Main technical parameters of multi-functional diamond mesh machine:
1. Dimensions: length: 3200mm width: 750mm height: 850mm.
Ii. Maximum working platform: 2000mm maximum weaving width: 2000mm.
3. Weaving maximum aperture: 200 x 200 mm woven minimum aperture: 4 x 4 mm.
4. Weaving maximum wire diameter: 6.0mm braided minimum diameter: 0.4mm.
5. Model A power 1.5kw B machine power 0.8kw reference price: negotiable.
Semi-automatic diamond mesh machine: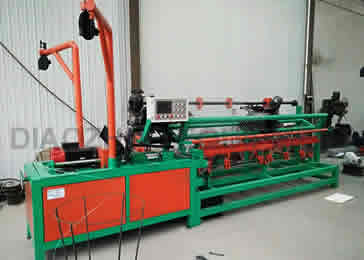 This machine is easy to operate, the technology is easy to grasp the use of artificial cutting silk, the lock edge, the net piece that make up is flat, the whole machine performance reliable fault is few, maintenance is convenient, suit small enterprise to use.
Automatic diamond mesh loom:
The wire rhombus net loom is made of German technology, which is of high efficiency and reliable quality.This machine design is reasonable, adopt microcomputer control, electromechanical integration, automatic complete spinning, cut, coil net, lock edge and so on process.Advanced import process, domestic machinery price, is a wide range of diamond network users ideal choice.