Wire mesh welding machine
Wire mesh welding machine has those characteristics, today sculpted wire mesh screen will give you a description of the characteristics of
wire mesh welding machine
:
1. The main body of the equipment is made of steel plate, square steel and other steel materials. The machine type has reasonable structure, stable performance and long service life.
2. The equipment adopts CNC automatic system, PLC programming control, high control precision, and the control system is independently integrated in the host control panel. The operation is easy to learn, and the operation interface consists of a touch screen and keys.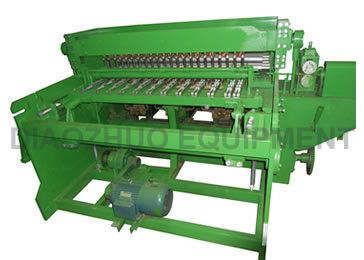 3, the use of high-performance multi-stage transformer welding transformer, control range expanded to eight stalls, expand the welding wire diameter range, expand the scope of use of the machine.
4. Feeding system, the weft feeding is controlled by stepping motor, automatic feeding, accurate blanking, solid welding, neat welding edge, circular wire feeding, no need for manual placing, automatic adjustment Straight, automatic welding.
5, pull the net to use servo motor control, automatic cycle pull net, pull the net standard, the grid is accurate, and equipped with automatic network equipment, automatic network cut, automatic stacking, no manual operation.
Model parameters:
Welding wire diameter: 2-5mm Welding mesh: 30*30-300*300
Welding width: 2000mm Solder joint number: 24
Welding speed: 60 times/minute Hopper type: Single hopper
Wire Mesh Welding Machine for sale
, welcome to visit our company