Wire Drawing Machine manufacturer
As a professional
wire drawing machine manufacturer
,Hebei Diaozhuo Wire Mesh Equipment Co.,Ltd. always follows the policy of Seeking Development through Quality and Establishing Reputation Via Quantity Products.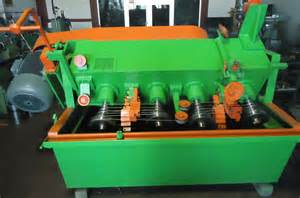 Structure:
The equipment consists of main reduction box, die casing, wheel frame, sash brace and Electrical control system. The spinning drawing blocks are driven by JZT series motor, with gear coupling runs changeful gears to reduce speed. The drawing blocks are verticaly fixed in sealed box body. The gear pair are lubricated with oil.
Usage:
The set of the machines is an ideal equipment for drawing wire stock of high, medium and carbon steel, as well as coper, alumium and alloy. The machine are applied for drawing wire in the factories, such as wire-steel factor, metal mesh factory and nail making factory etc.
In order to lower residual heat on the surface of the block, the cooling means is installed in inter-wall of the block, the wortle is soaked in cooling water to reduce its working temperature.
The High Speed Wire Drawing Machinery runs with carvel or linkage. The safety halt gear is installed by the position of operating block.
If you are interested in our machine, please contact us. We are always looking forward to working with you!