1, Welded Wire Mesh welding Machine adopts imported famous brand pneumatic components, long service life, high precision, high pressure, prompting a solid solder joint.

2, Welded Wire Mesh welding Machine adopts a new type of high efficient welding net transformer, shifting gear can be divided into eight level, expand the scope welding Wire diameter. Professional design of electrode blocks, low wear rate, and can be used on multiple surfaces.

3, Welded Wire Mesh Machine network control system using computer programming, horizontal spacing is the infinite adjustment, change the pitch are set in the program, the same net piece can have a variety of different horizontal spacing.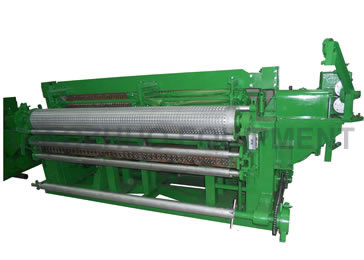 4. The control system adopts PLC programming controller, touch screen, convenient operation interface and simple working mode.

5. The feeding system adopts patented technology, single drop, barrel drop, no manual placement is required.

6 and widely used welding net, has been widely used in industrial and civil building floor, FangGai, walls, Bridges, concrete road, platform, airports, cement pipe, concrete casting, retaining wall, mountain slopes, tunnels, docks, embankments, etc.

7. Specific parameters:

The maximum width of welded mesh is 2500mm, and the diameter of welded steel is 5mm-12mm.

The distance between the fibers is greater than or equal to 50mm, and can be adjusted arbitrarily

Torque hole spacing of 50--600mm;

Automatic air cooling and power greater than 1500KVA for welding transformer can realize one time compaction and sub-welding.