Reinforcing Mesh Welding Machine for sale
Are you looking for a company where has high quality Reinforcing Mesh Welding Machine for sale? Hebei Diaozhuo Wire Mesh Equipment Co.,Ltd. is a good choice.We have many years of production experience in this area, our products meet the requirements, it is trustworthy.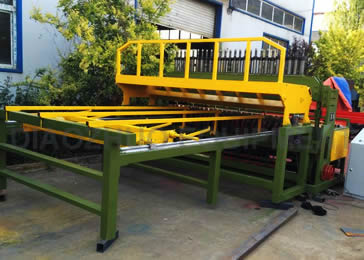 Description of Reinforcing Mesh Welding Machine:
1. This Reinforcing Mesh Welding Machine adopts synchronous control technique;
2. The separate-control and welding time are composed of PLC program system, to make the operation more intelligent.
3. Both the time and welding current for each welding transformer can be adjusted individually.
4. Netting system consists of servo motor control, not only improves the accuracy of mesh size, while ensuring the distance adjustability between the warp and the weft wire.
5. Note: Special type can be made according to client's requirement.
We also have high quality hexagonal mesh machine for sale.If you need our machine, Do not hesitate, contact us soon.E-mail: admin@diaozhuomachine.com