Hebei Diaozhuo Wire Mesh Equipment Co.,Ltd. is one of the professional barbed wire machine manufacturers in china. We can produce various wire mesh machines according the clients' requirement.
Barbed wire production machines, barbed wire welding equipment is the production of barbed wire must-have machine, also known as row welding machine. Row welder is divided into pneumatic row welder and mechanical row welder.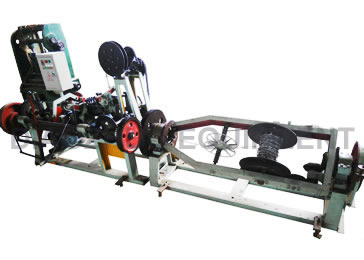 The machine uses a new type of weft into the body, good stability, weft into the length of accurate. Synchronous clutch wire feeding mechanism instead of intermittent transmission mechanism, eliminating the shortcomings of the intermittent transmission crash noise, but also to avoid intermittent drive out of step caused by mechanical failure. At the same time improve the welding speed and quality, saving raw materials, greatly reducing the cost of net. Welding specifications, fine control, accurate. The use of new energy-efficient transformers, reducing the power load, improve the quality of net, also expanded the wire can be welded wire by the range. Save the welding manpower and time, greatly improving the efficiency. The uniform mesh diameter, the same grid, solid solder joints, suitable for interior decoration, handicrafts, anti-corrosion purposes, precious bird breeding.
Product Features: With frame frame, electromagnetic stepless speed, put silk trip, hanging Wei accurate, low noise, energy efficient, mesh standards.
If you are interested in our machines, please contact us. We look forward to working with you!