China Gabion Mesh Machine exporter
As a professional China Gabion Mesh Machine exporter,Hebei Diaozhuo Wire Mesh Equipment Co.,Ltd.is a good choice.Our company has many years of production experience. Our company is a leader in this field. For product quality, we are also strictly controlled.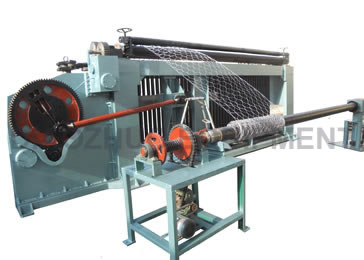 Gabion wire mesh machine also known as heavy duty hexagonal wire mesh machine,the machine is a newly developed market-suitable product which integrates the merits of domestic and overseas products,the max mesh width is 4.3m,with max mesh size 120x150mm.Gabion mesh machine have been designed to make gabion mesh of various widths and mesh sizes.We can manufacture gabion machine according to customer request.It adopts PLC controller,and operated steady low noise and efficiency.It is ideal machine for high standards,wide weaving,high strength hexagonal.The finished mesh product is widely used in petroleum,construction,farming and chemical industries.
We are professional Gabion Mesh Machine supplier.The quality of our machine is absolutely guaranteed. If you are interested in our products, please contact us. We always look forward to working with you!