Automated Diamond Mesh Machine
Automated Diamond Mesh Machine
The work of the Automated Diamond Mesh Machine is obviously certainly the most manual operation. There is only one gearbox, one set of dies, and one motor. The artificial need to sit on the right side of the diamond mesh machine and press the switch wire to transform it. The hyper-marker lifts his right foot to stop the work of the diamond mesh machine and then cuts the pliers holding the wire and places it on the board, then continues the next thread. Repeated operation.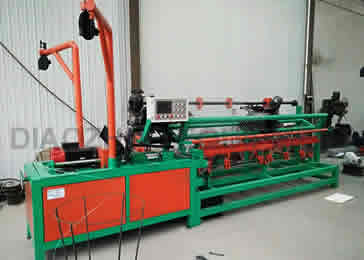 Semi-automatic diamond mesh machine work needs to manually penetrate the mold into the mold and then set the counter on the semi-automatic rhombic mesh machine, the number can be started, semi-automatic diamond mesh machine can be calculated according to the number you set to calculate this one The length of the wire, after the required length, the machine will automatically cut off; on the other counter, you can set the number of wires required for a chain link network. After the number of threads is reached, the machine will automatically stop and then start the wire to manually start. Web.
Then press the restart button to start the job again. The work of the multi-function diamond net machine is similar to that of the semi-automatic rhombic net machine only. Fully automatic diamond mesh machine working bar will start to pass through the mold, automatic diamond net machine set the wire after the number of meters, set the length of the net, then Automated Diamond Mesh Machine will be able to Finished nets, broken wires, braided nets, closed edges, rolled rolls, or finished rolls are shaped directly without manual work. One person can see more than one Automated Diamond Mesh Machine.